Register for the 2016 Wound Care Conference
Our Philosophy
For decades, healthcare professionals mistakenly assumed that "drying out" wounds sped healing and decreased infection. But modern research proves that the opposite is true.
At the EIRMC Wound Care Center, our team practices moist wound healing principles, which can double the rate of healing and reduce pain and scarring.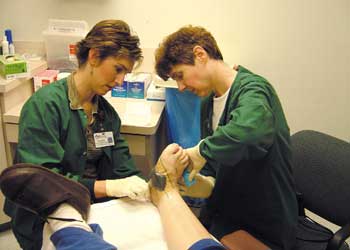 We use a multi-disciplinary approach to your care. The physicians are Board-Certified in their fields and able to bring a unique and higher level of knowledge: plastic surgeon, Dr. Brian Bruggeman, is well-equipped to surgically close wounds that won't heal on their own. Podiatrist, Dr. Tony Quinton, is expert at caring for the complex and challenging diabetic foot.
Certified Wound Care Specialists have advanced training and specialized expertise to care for your most difficult wounds. Additionally, patients receive many ancillary services to help with issues like vascular intervention, nutrition support, diabetes education, and infection control.
Our work in skin and wound care is nationally recognized; we have presented at national conferences and been guest lecturers at university-level courses.
Our program is nationally registered, and we often accept out-of-state referrals.